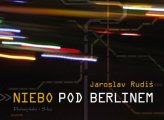 Książka Jaroslava Rudiša to zaprzeczenie filmu "Niebo nad Berlinem" sprzed dwudziestu lat. Tam mieliśmy poetycką wizję aniołów towarzyszących mieszkańcom podzielonej metropolii, tu z metafizyki mamy co najwyżej cienie samobójców, w dodatku opisane potocznym językiem. A jednak "Niebo pod Berlinem" wciąga mnie tak, jak film Wima Wendersa.
To książka-mozaika, w której pokazane celnie pokazane są obrazki z życia Berlina. Nie brakuje też legend miejskich, na przykład tej o kilometrach niewykorzystanych, ślepych tunelów z pociągami-widmami z samobójcami, którzy rzucali się pod koła U-Bahnów. Te tunele istnieją zresztą naprawdę, nieznane są mi jedynie żadne informacje o duchach. Informacje o tunelach znaleźć można na stronie www.untergrundbahn.de.
Audio clip: Adobe Flash Player (version 9 or above) is required to play this audio clip. Download the latest version here. You also need to have JavaScript enabled in your browser.
Kliknij tutaj, aby zapisać na dysku odcinek "Glosy – podkastu o nowych książkach" o "Niebie pod Berlinem".
Jaroslav Rudiš, "Niebo pod Berlinem", Prószyński i S-ka, Warszawa 2007.
Skomentuj Kwiecień 4th, 2007