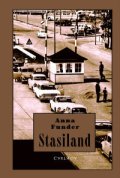 "Stasiland" to reportaĹź australijskiej dziennikarki Anny Funder o ludziach z byłej NRD. Autorka podczas jednej z wizyt w Berlinie natknęła się na Miriam Weber, ktĂłrej jako nastolatce prawie udało się uciec z Berlina Wschodniego. Anna Funder zdecydowała się więc przyjechać na dłuĹźej do Berlina, gdzie zaczęła na pół etatu pracę w berlińskiej telewizji. O tym, Ĺźe NRD jest ciekawym materiałem na książkę, upewnił ją jej berliński szef, ktĂłry na wieść o tym, Ĺźe Anna chce zająć się Wschodnimi Niemcami, powiedział: "Zrozum, Ĺźe tymi ludĹşmi naprawdę nikt się nie interesuje. Tak to właśnie jest. Tutaj nie ma ciekawych ludzi. Byli zacofani i biedni, a ta ich cała Stasi… To takie… nieprzyjemne i krępujące".
W tym odcinku do wygrania jest omawiana książka. Słuchajcie uważnie!
Strona wydawnictwa Cyklady: www.cyklady.com.pl.
Audio clip: Adobe Flash Player (version 9 or above) is required to play this audio clip. Download the latest version here. You also need to have JavaScript enabled in your browser.
Kliknij tutaj, aby zapisać na dysku odcinek "Glosy – podkastu o nowych książkach" o "Stasiland".
Anna Funder, "Stasiland", Cyklady, Warszawa 2007.
Jest 1 komentarz Luty 28th, 2007