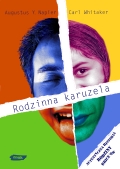 Książka "Rodzinna karuzela" ma spełnić dwa zadania: pomóc rodzinom w rozwiązywaniu konfliktów oraz promować terapie rodzinne. Pierwszy cel streścić można w zaleceniu, żeby w rodzinach rozmawiać ze sobą otwarcie o wszystkim, dopuszczając do ostrej wymiany zdań czy nawet kłótni. Zdaniem terapeutów jest to lepsze niż tłumienie gniewu i odkładanie rozwiązywania problemów na później. A jeśli to się nie uda, to trzeba skorzystać z drugiego podstawowego zalecenia książki: szybko rozpocząć terapię z udziałem całej rodziny.
Audio clip: Adobe Flash Player (version 9 or above) is required to play this audio clip. Download the latest version here. You also need to have JavaScript enabled in your browser.
Kliknij tutaj, aby zapisać na dysku siĂłdmy epizod "Glosy – podkastu o nowych książkach".
Augustus Y. Napier, Carl Whitaker, "Rodzinna karuzela", Wydawnictwo Znak, Kraków 2006.
Skomentuj Czerwiec 24th, 2006