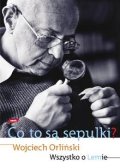 Wojciech Orliński, dziennikarz "Gazety Wyborczej" i autor opowiadań fantastycznych na prawie 300 stronach zaprezentował pakiet informacji o Stanisławie Lemie. Lem często pisał zabawnym i kpiarskim językiem i to samo powiedzieć można o książce Orlińskiego. Hasła są zwięzłe, naszpikowane informacjami, a mimo to czyta się je jak felietony, a nie definicje z encyklopedii PWN. Orliński nie jest oczywiście w stanie powiedzieć o Lemie wszystkiego – wbrew temu, co przewrotnie napisano na okładce książki. Ale bardzo skutecznie zachęca do sięgnięcia po twórczość zmarłego rok temu pisarza.
Audio clip: Adobe Flash Player (version 9 or above) is required to play this audio clip. Download the latest version here. You also need to have JavaScript enabled in your browser.
Kliknij tutaj, aby zapisać na dysku odcinek "Glosy – podkastu o nowych książkach" o książce "Co to są sepulki?".
Wojciech Orliński, "Co to są sepulki? Wszystko o Lemie", Wydawnictwo Znak, KrakĂłw 2007.
Jest 1 komentarz Sierpień 13th, 2007