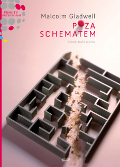 Książka autorstwa Malcolma Gladwella, która ukazała się w Wydawnictwie Znak, to antyporadnik sukcesu. Autor – na marginesie sam człowiek sukcesu – przeanalizował życiorysy kilkudziesięciu sławnych i bogatych, dochodząc do wniosku: mit amerykańskiego "self made mana" ma mało wspólnego z rzeczywistością. Największy wpływ na sukces człowieka ma splot szeregu okoliczności, na które sam zainteresowany nie ma żadnego wpływu. Przykład: Bill Gates, urodzony w 1955 roku, zdaniem Gladwella stał się najbogatszym człowiekiem na świecie, bo urodził się właśnie w 1955 roku, a więc kilka lat przed wybuchem pierwszej komputerowej rewolucji. Gdy Gates miał czternaście lat, biblioteka stanowego uniwersytetu zakupiła komputery, z których można było bezpłatnie korzystać. Młody Gates wymykał się zatem każdej nocy między drugą a szóstą rano i uczył się obsługi i programowania komputerów. Autor pokazuje nam zatem Gatesa i mówi: to nie talent, ale okoliczności zrobiły z niego miliardera.
Audio clip: Adobe Flash Player (version 9 or above) is required to play this audio clip. Download the latest version here. You also need to have JavaScript enabled in your browser.
Kliknij tutaj, aby zapisać na dysku odcinek "Glosy – podkastu o nowych książkach" o książce "Poza schematem. Sekrety ludzi sukcesu".
Malcolm Gladwell, "Poza schematem. Sekrety ludzi sukcesu", Społeczny Instytut Wydawniczy Znak, Kraków 2009.
2 komentarze Kwiecień 13th, 2009