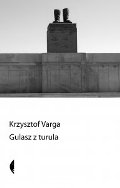 Turul to nieistniejący węgierski ptak, którego pomniki znaleźć można w całym kraju naszych bratanków. Gulasz to zupa, która w naszym kraju najczęściej przyjmuje postać dania. Varga to pisarz, który krąży między Węgrami a Polską. Z tego krążenia – także w sensie przenośnym – napisał książkę z esejami o kraju, z którym wiąże go pochodzenie i sentyment.
W tym odcinku podkastu Glosa rozmawiam z Krzysztofem Vargą o węgierskiej kuchni, tęsknocie za wielkimi Węgrami i niejednorodności Madziarów.
Audio clip: Adobe Flash Player (version 9 or above) is required to play this audio clip. Download the latest version here. You also need to have JavaScript enabled in your browser.
Kliknij tutaj, aby zapisać na dysku odcinek "Glosy – podkastu o nowych książkach" o książce "Gulasz z turula".
Krzysztof Varga "Gulasz z turula", Czarne, Wołowiec 2008.
Jest 1 komentarz Maj 22nd, 2008