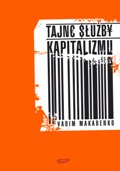 Czy sprawdzacie swoje worki ze śmieciami przed wrzuceniem ich do kubła? Po wysłuchaniu tego odcinka podkastu Glosa zapewne zaczniecie to robić. Dzisiejsze korporacje wiedzę o swoich klientach czerpią bowiem z wielu niekonwencjonalnych źródeł, w tym z naszych śmieci. Wysłani na ich zlecenie badacze przeczesują jednak nie tylko wysypiska śmieci, ale zamieszkują również w naszych mieszkaniach, towarzysząc nam od świtu do nocy w codziennych czynnościach. A jeśli i to nie wystarcza, przedstawiciele korporacji zapraszają nas na atrakcyjne wyjazdy, na których wyciągają od nas opinie o swoich produktach.
O tych i innych technikach badania oczekiwań konsumenta opowiada Vadim Makarenko, autor książki "Tajne służby kapitalizmu" w reaktywowanym po kilkumiesięcznej przerwie podkaście Glosa.
Audio clip: Adobe Flash Player (version 9 or above) is required to play this audio clip. Download the latest version here. You also need to have JavaScript enabled in your browser.
Kliknij tutaj, aby zapisać na dysku odcinek "Glosy – podkastu o nowych książkach" o książce "Tajne słuĹźby kapitalizmu".
Vadim Makarenko, "Tajne słuĹźby kapitalizmu", SIW Znak, KrakĂłw 2008.
Skomentuj Kwiecień 6th, 2008