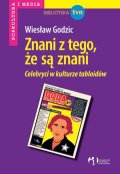 Skąd na okładkach tysięcy kolorowych magazynów o życiu i sprawach z życia wziętych wzięła się Paris Hilton? Ano stąd, że idealnie łączy próżne życie wyższych sfer z przyziemnymi problemami przeciętnego człowieka – twierdzi prof. Wiesław Godzic. Bywa na imprezach z truskawkami, szampanem i Britney Spears, a zaraz potem ląduje w więzieniu. Również nasze rodzime gwiazdki szybko się uczą: Michał Wiśniewski i Doda może nie uprawiali jeszcze seksu przed kamerą, ale w rolę bohaterów popkultury wpisali się doskonale.
Medioznawca w książce "Znani z tego, że są znani" pokazuje, że nie ma co lamentować nad oddaniem kultury w ręce sezonowych gwiazdek. Co prawda celebryta nie jest wielkim człowiekiem, a jedynie głośnym nazwiskiem, ale może zaktywizować masy do pozytywnych działań. Takich choćby jak wysłanie SMS-a na cel charytatywny.
Godzic twierdzi, że celebryci tworzą nową sferę publiczną, reprezentując przeciętnego Kowalskiego przed establishmentem. Autor tej opasłej książki sugeruje więc, żeby to intelektualiści zaczęli celebrytów wykorzystywać. Brzmi to nieco groźnie, zwłaszcza że Godzic książkę dedykuje naszym nieporadnym medialnie politykom.
Omówienie opublikowane w "Życiu Warszawy" z 20.06.2007
Audio clip: Adobe Flash Player (version 9 or above) is required to play this audio clip. Download the latest version here. You also need to have JavaScript enabled in your browser.
Kliknij tutaj, aby zapisać na dysku odcinek "Glosy – podkastu o nowych książkach" o książce "Znani z tego, Ĺźe są znani".
Wiesław Godzic, "Znani z tego, Ĺźe są znani. Celebryci w kulturze tabloidĂłw", Wydawnictwa Akademickie i Profesjonalne, Warszawa 2007.
Jest 1 komentarz Wrzesień 16th, 2007