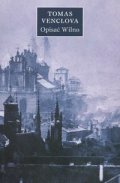 Tomas Venclova, litewski poeta, eseista i tłumacz napisał świetną książkę o Wilnie pt. "Opisać Wilno", wydaną przez Zeszyty Literackie. To najwyższych lotów eseje o ludziach, którzy tworzyli to miasto od legendarnego założyciela Wilna Giedymina do czołowego opozycjonisty u zmierzchu ZSRR, Vytautasa Landsbergisa.
Tomas Venclova mĂłwi: "Historia kultury Wilna to rzecz zupełnie niesamowita, bo tych kultur jest tam duĹźo. Napisałem więc historię kultury Wilna, w ktĂłrej jest mowa jest o architekturze, ale głównie chyba o ludziach wileńskich".
Audio clip: Adobe Flash Player (version 9 or above) is required to play this audio clip. Download the latest version here. You also need to have JavaScript enabled in your browser.
Kliknij tutaj, aby zapisać na dysku odcinek "Glosy – podkastu o nowych książkach" o Wilnie.
Tomas Venclova, "Opisać Wilno", Fundacja ZeszytĂłw Literackich, Warszawa 2006.
Jest 1 komentarz Maj 14th, 2007