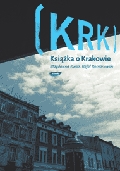 JeĹźeli KrakĂłw kojarzy ci się tylko z kościołem mariackim, Wawelem i lajkonikiem, to najwyĹźszy czas to zmienić. Od kilku dni w sprzedaĹźy jest "KRK. Książka o Krakowie" wydana przez Znak. Dwudziestu krakusĂłw opowiada o swoim mieście, ktĂłre ich zdaniem przez ostatnich kilka lat stało się nowoczesnym, pulsującym ośrodkiem zrywającym ze skostniałą tradycją.
W książce rzadko wspomina się zapyziały Krakówek, tu jest mowa o mieście – chyba nieco na wyrost nazwanym metropolią – XXI wieku. Mieście, które marzy na przykład o tym, żeby dzielnica Kazimierz w niczym nie ustępowała londyńskiemu Soho i berlińskiemu Kreuzbergowi.
Audio clip: Adobe Flash Player (version 9 or above) is required to play this audio clip. Download the latest version here. You also need to have JavaScript enabled in your browser.
Kliknij tutaj, aby zapisać na dysku odcinek "Glosy – podkastu o nowych książkach" o KRK.
Magdalena Kursa, Rafał Romanowski, "KRK. Książka o Krakowie", Wydawnictwo Znak, KrakĂłw 2007.
Skomentuj Maj 11th, 2007