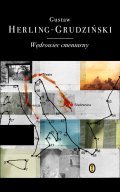 "Wędrowiec cmentarny" to odnaleziony juĹź po śmierci rękopis opowiadania, ktĂłre miało być częścią zamierzonego przez pisarza cyklu. Sześć lat po śmierci Herlinga-Grudzińskiego mamy okazję przeczytać to wstrząsające, ale świetne opowiadanie o zbrodniarzu ze Srebrenicy, ktĂłry ucieka przed sprawiedliwością i przed światem.
Wysoka cena cieniutkiej książeczki odstrasza, ale przeczytać warto.
Audio clip: Adobe Flash Player (version 9 or above) is required to play this audio clip. Download the latest version here. You also need to have JavaScript enabled in your browser.
Kliknij tutaj, aby zapisać na dysku odcinek "Glosy – podkastu o nowych książkach" o "Wędrowcu cmentarnym".
Gustaw Herling-Grudziński, "Wędrowiec cmentarny", Wydawnictwo Literackie, KrakĂłw 2006.
Skomentuj Styczeń 15th, 2007