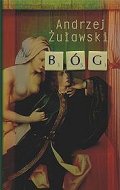 Nawet najlepszemu autorowi zdarza się napisać banalną książkę. Ale gdy dodatkowo jest to książka kiczowata, to naleĹźy mieć wątpliwości, czy autor jest dobrym pisarzem. Ĺťuławski w powieści "BĂłg" nie daje nam powodĂłw do pozytywnej oceny jego kunsztu literackiego. Nudna, zawiła, pusta książka. Nawet nie bierzcie do ręki.
Audio clip: Adobe Flash Player (version 9 or above) is required to play this audio clip. Download the latest version here. You also need to have JavaScript enabled in your browser.
Kliknij tutaj, aby zapisać na dysku odcinek "Glosy – podkastu o nowych książkach" o powieści Andrzeja Ĺťuławskiego "BĂłg"
Andrzej Ĺťuławski, "BĂłg", Wydawnictwo Książkowe TwĂłj Styl, Warszawa 2006.
Skomentuj Styczeń 28th, 2007