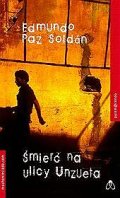 "Śmierć na ulicy Unzueta" nieznanego dotychczas w Polsce Edmundo Paz Soldána, młodego pisarza z Boliwii to debiut krakowskiego wydawnictwa Muchaniesiada.com. Pomimo że pomysł na książkę jest dosyć prosty – syn wyrusza w poszukiwania prawdy o zamordowanym z powodów politycznych ojcu – to powieść napisana jest świetnym językiem i obsadzona nietuzinkowymi bohaterami. Ponadto w Polsce książka odgrywa szczególną rolę – jest bodajże pierwszą pozycją, która zrywa ze stereotypowym myśleniem o literaturze latynoamerykańskiej jako siedlisku duchów, tajemniczych domów i zjawisk nadprzyrodzonych.
W tym epizodzie podkastu o książce mówi jej tłumacz, Tomasz Pindel.
Audio clip: Adobe Flash Player (version 9 or above) is required to play this audio clip. Download the latest version here. You also need to have JavaScript enabled in your browser.
Kliknij tutaj, aby zapisać na dysku epizod "Glosy – podkastu o nowych książkach" o "Śmierci na ulicy Unzueta".
Edmundo Paz SoldĂĄn, "Śmierć na ulicy Unzueta", Muchaniesiada.com, KrakĂłw 2006.
Skomentuj Grudzień 22nd, 2006