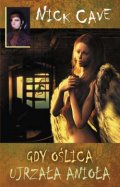 Legenda Nicka Cave'a bierze się nie tylko z mrocznych balladowych piosenek, ale teĹź z mrocznych książek, takich jak "Gdy oślica ujrzała anioła". Na długie, listopadowe wieczory to lektura niezgorsza – ciemna, obślizgła, wciągająca.
Bohater książki, gotycki Harry Potter, odkrywa w sobie powołanie do proroctwa. I chociaż jest niemową, to w myślach wygłasza płomienne mowy. Przy okazji nie może doczekać się śmierci znienawidzonej przez siebie matki, widzi ojca-sadystę męczącego umierające z bólu zwierzęta i od czasu do czasu zabija pijane przybłędy. Wszystko dzieje się w latach czterdziestych wśród  fanatycznej wspólnoty religijnej w strumieniach padającego bez przerwy deszczu. Miłej lektury!
Audio clip: Adobe Flash Player (version 9 or above) is required to play this audio clip. Download the latest version here. You also need to have JavaScript enabled in your browser.
Kliknij tutaj, aby zapisać na dysku szesnasty epizod "Glosy – podkastu o nowych książkach".
Nick Cave, "Gdy oślica ujrzała anioła", Zysk i S-ka Wydawnictwo, Poznań 2006.
Skomentuj Listopad 20th, 2006