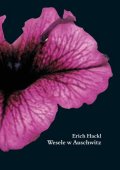 "Wesele w Auschwitz" to tytuł książki Ericha Hackla, ktĂłra ukazała się w serii nowej niemieckojęzycznej literatury "Kroki/Schritte".
Erich Hackl dotarł do relacji osĂłb, ktĂłre pamiętają niezwykłe wydarzenie w obozie zagłady w Auschwitz – ślub między więźniem, Austriakiem Rudim Friemlem, a Hiszpanką Margaritą Ferrer, ktĂłra przyjechała specjalnie na to wydarzenie z robĂłt przymusowych z Niemiec.
Powstał niezwykły dokument oparty na pamięci ludzkiej i dokumentach z obozowych archiwów.
Audio clip: Adobe Flash Player (version 9 or above) is required to play this audio clip. Download the latest version here. You also need to have JavaScript enabled in your browser.
Kliknij tutaj, aby zapisać na dysku czternasty epizod "Glosy – podkastu o nowych książkach".
Erich Hackl, "Wesele w Auschwitz", Austeria, KrakĂłw 2006.
Skomentuj Październik 30th, 2006