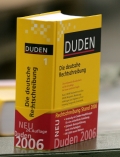 Słownik ortograficzny Duden to biblia języka niemieckiego. W sobotę 22 lipca ukazało się nowe wydanie, ktĂłre ma przypieczętować trwającą od dziesięciu lat reformę niemieckiej pisowni. Czy to jednak koniec zmian? Jedno jest pewne – Duden na reformach pisowni tylko zyskuje.
Audio clip: Adobe Flash Player (version 9 or above) is required to play this audio clip. Download the latest version here. You also need to have JavaScript enabled in your browser.

Kliknij tutaj, aby zapisać na dysku Ăłsmy epizod "Glosy – podkastu o nowych książkach".
"Duden. Die deutsche Rechtschreibung", 24. Auflage, Mannheim 2006.
Skomentuj Sierpień 7th, 2006