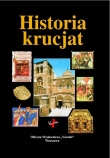 Idziemy na wojnę. Ale nie do Iraku czy Iranu, tylko na wojnę z brakiem wiedzy o zbrojnych działaniach, które toczyły się w Europie i na Bliskim Wschodzie kilka wieków lat temu. Mowa będzie o zmaganiach kryjących się pod złowieszczą nazwą "krucjaty".
Większość chrześcijan nie wie, co zrobić z krucjatami, podobnie jak nie potrafi wytłumaczyć się z inkwizycji. Słyszeli, że ma to coś wspólnego z "ciemnymi kartami historii Kościoła", cokolwiek to oględne stwierdzenie miałoby znaczyć i intuicyjnie przypuszczają, że sprawa może dotyczyć współczesnych katolików. Czy zatem sięgać już po urnę z popiołem, żeby posypywać sobie głowę, czy przeciwnie: prać białe szaty niewinności? Najlepiej się poinformować.
Audio clip: Adobe Flash Player (version 9 or above) is required to play this audio clip. Download the latest version here. You also need to have JavaScript enabled in your browser.
Kliknij tutaj, aby zapisać na dysku szĂłsty epizod "Glosy – podkastu o nowych książkach".
"Historia krucjat" pod redakcją Jonathana Riley-Smitha, Oficyna Wydawnicza "Vocatio", Warszawa 2005.
Skomentuj Czerwiec 16th, 2006